Hey everyone! I know, I know, it has been a while and I am so behind on my Daily December that I should hang my head in shame! But to be fair, there was a nasty little incident with our cat and my album, which led to the album being tossed and very nearly the cat, as well!!! That, coupled with 15 houseguests for Christmas has put me a wee bit behind!!!
Anyway, I am back, and my New Year's resolution is to keep up with the blog by posting at least 4 or 5 times a week, include more content like tutorials and fun stuff!!!
So to start - I want to let you know about a great crop coming up at the end of the month - with a chance to win a CRICUT!!! Yup!!! I might even try to win, since apparently I am the only one on the earth who doesn't have one yet!!!!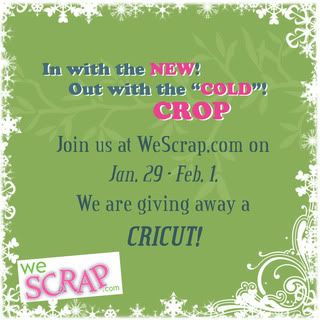 I hope you will join us for lots of cool inspiration and fun!!!!